Last week, my family and I attended the world-famous Baltimore Comic Con. This is one of our all-time favorite shows because the fans are awesome and it's always great seeing so many friends.
Punk Taco 2 had the huge honor of being nominated for a Ringo Award for "Best Kids Comic or Graphic Novel" and on Saturday the whole family got to attend the ceremony, and enjoy some great company and conversations. To be chosen out of so many amazing comics and graphic novels, is again, a huge honor. To be the only self-published book in our category, is an even bigger deal. In 2019 the first Punk Taco graphic novel took home the prize in the same category, unfortunately, we did not win this year. But while it is never easy to lose, I was so proud of my kids for how they handled themselves and those BIG emotions that come with loss. My youngest held my hand and said "At least you got the biggest cheers, Daddy." Can't beat that.
The best part of Baltimore Comic Con is seeing all of the fans, making new ones and hanging out with fellow creators. It's awe-inspiring being surrounded by so much talent. Sometimes it's overwhelming even. But in the end, it motivates me to keep going, even through the hard times. Thank you to all of he new customers as well as all of the repeat customers that keep coming back for more. We appreciate you.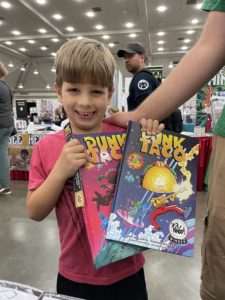 This year we had copies of Punk Taco 1 and 2 for sale as well as our custom Punk Taco Lego Brickheadz and a bunch of new stickers.  I was asked by several creator friends as well as fans, where I get my stickers from and I figured I would share with everyone. For several years now I have been ordering all of my stickers from Sticker Mule. I forget exactly how I discovered them but because my original publishing company was American Mule Entertainment I knew I had to give them a shot and I've been using them ever since. They have great products and great customer service. I especially love that their stickers can go through the wash on our water bottles and show no signs of wear. Ever.